Planning a Silk Road Itinerary – 3 Months Travel Along the Silk Road
UPDATE 
Well our Silk Road trip is over – 8 days after landing in Shanghai – we were landed in an emergency room of a hospital in Lanzhou – a city I never planed to overnight in…
When your partner collapses on a bus to Xiahe you learn some stuff.
I didn't panic – a week or so later I was surprised at that. I recalled the ads at home about how to check  if someone is having a heart attack – he wasn't.
You can go a long time without food, but not sleep.  I'd had maybe 3 hours the night before on the train from X'ian. I think I collapsed on a bench outside  his ward about 2am the following morning. Unbelievably I slept solidly for  about 4 hours.
The kindness of strangers is amazing.
I will probably write  a whole post about about travel insurance at some point.
The Original post:
It started with a documentary The Silk Road, and as often happens, after that, we kept on seeing documentaries about places we'd not heard of before: the Pamirs, Penjikent, Sogdiana, as well as some that we had heard of but wasn't exactly sure were they were: Kashgar, Samarkand, Bukhara, Khiva.
I admit at the time I would have struggled to tell you which countries bordered China to the west and where exactly the Aral Sea was. Which is a big admission from someone who prides herself on her geographic knowledge.
Xian to Istanbul – had a ring about it – we would soon have the time. How hard could it be to plan a silk road travel route? Many months later I can tell you there is some interesting wrinkles on deciding a Silk Road travel route.
We started with a map like this. Although the modern traveller has far fewer hoops to jump through than in any time in history, there are still a few. Early on we realized that Turkmenistan was going to be a visa nightmare (they have fewer tourists than North Korea) and expensive. It came off the list. Iran and Pakistan had some appeal – but those passport stamps would make it very difficult to enter the US again. Afghanistan – yeah,nah – I do have limits to my risk tolerance!
Silk Road Travel Time
It took Marco Polo 30 years. We didn't have quite that long. I had a business to run, Paul had a quaint notion that he occasionally likes to sleep in his own bed. We looked at a map. And discovered some interesting facts:
China is big! By the time we got to Kashgar we'd be half way to Istanbul – and still in China!
The mountains between China and Kyrgyzstan and Tajikistan, are still a barrier to travellers.
The bullet trains in China are fast – but after that the speed of travel gets real slow.
For various reasons we couldn't leave New Zealand until the end of July. We wanted to be out of the Northern Hemisphere by late October due to winter. I'd been snowed on in Istanbul in April – so knew it had a winter. Which meant the interior of Turkey would be even colder!
I googled "tour Istanbul to Xian" – 80 days in a 4WD bus/truck was the answer. We like trains, and there are plenty of them on this route, but still the overland companies do  give you an estimate on some routes. We were also going to basically skip through Turkey, have seen some of it on previous trips.
Depending on how you define the silk road and your style of travel we figured the answer to the question"how long would it take to travel the entire silk road?" – for us – was about three months.


Our Silk Road Travel Route
I still use an old-fashioned spreadsheet for an itinerary – the reason is simple – I can add another column when I think of yet an another alternative… In the end there were three main parts  to the trip:
China and the Iron Silk Road
China – huge but organized, lots of trains, but they sell out fast, we needed to book them before arrival!
China was  in many ways the easier part of the trip but the area I needed to pre-book.  We wanted to travel by train, and the Chinese have built themselves that largest network in the world. But there is just one route to Kashgar. It follows the old Silk Road – because the geography hasn't changed – the Hexi Corridor is still a narrow gap between the Mongolian and Tibetan plateaus. The Taklamakan Desert is still a barrier – and the train follows the northern route to Kashgar.
Pamirs and the Tian Shan (Tajikistan, Kyrgyzstan, Kazakhstan)
Up until last week I thought our options were either over the historic (but expensive because of political restrictions) Torugart Pass to Kyrgyzstan, or the easier  and modern Irkeshtam Pass. The former made it difficult to get to the Pamirs, the later landed us at the wrong end of the Pamir Highway in terms of altitude adjustment.  We're being conservative on this because Paul has never been to altitude at a 4600 pass may not be the best place to start.
Then a break through – the wonderfully informative site  on all  Central Asia travel – Caravanistan.com- started reported that foreigners were getting through the Qolma (or Kulma) Pass – from near Tashtorgan, on the Karakorum Highway  in China direct to  Tajikistan and the village of Mugarb on the Pamir Highway! So that" the plan -whether it works out – who knows – but it is  the plan.
The Pamir Highway has the possibility of allowing us to see the Warkham Corridor (Afghanistan) without actually entering that country, almost certainly the more historically correct route.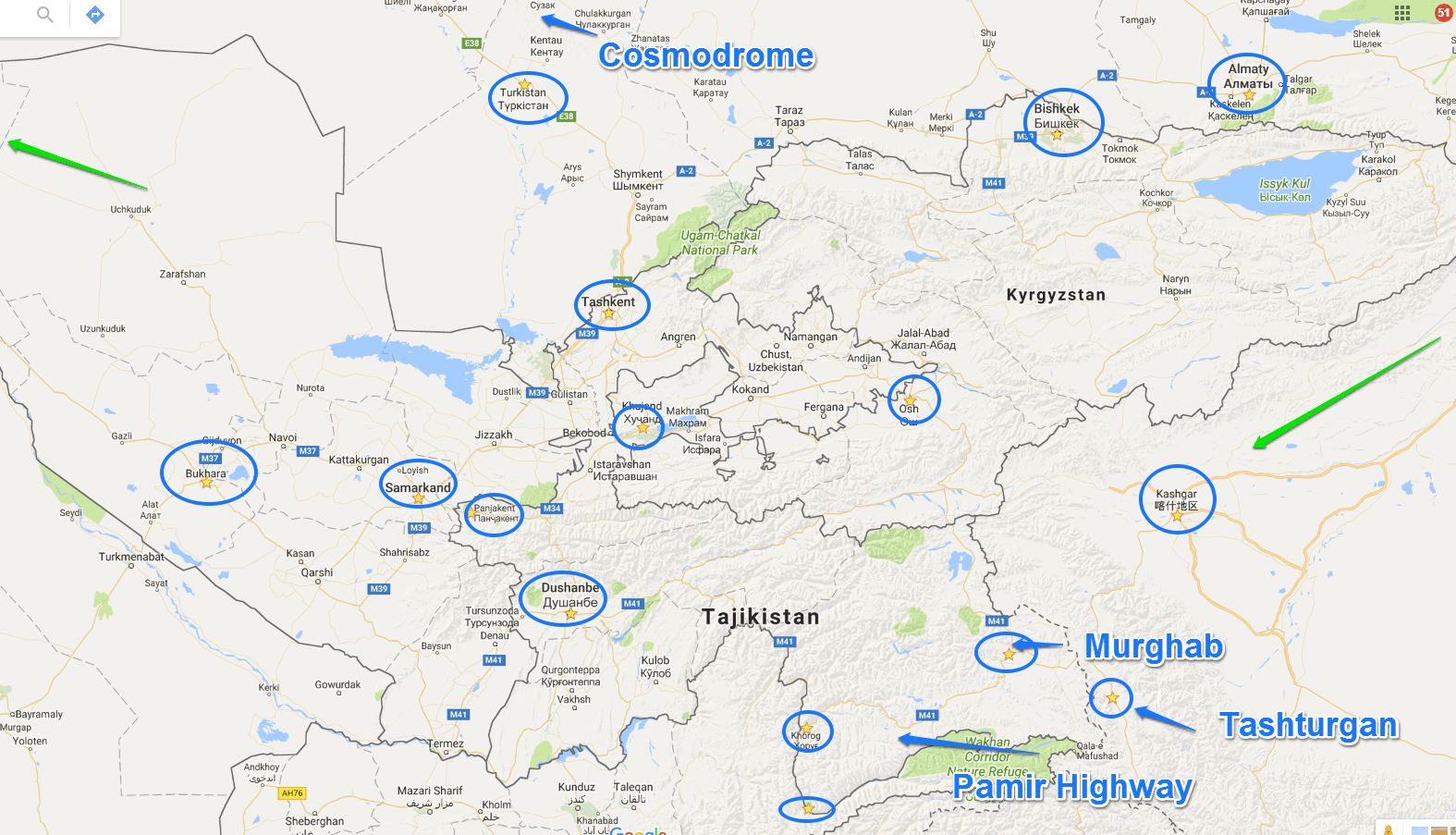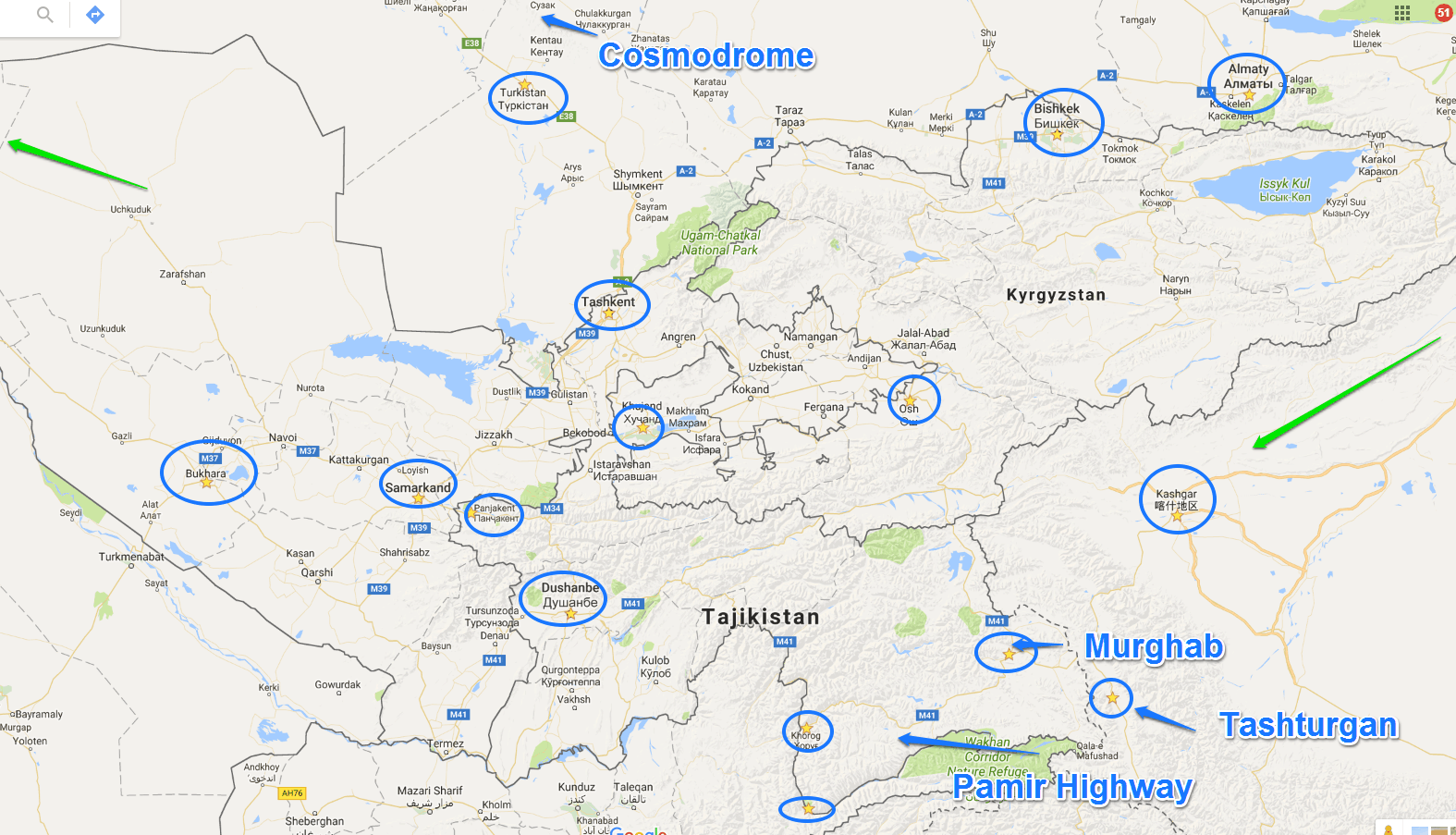 Space meets Silk
So the exact route to Almaty is a bit vague at the moment – though we'd really like to see the last remaining valleys of the Sogdians who ran the Silk Road commerce at the height of the silk road's importance. We (hopefully) have a date to keep. We want to be in Baikonur (Kazakhstan) for a manned space launch in September. Baikonur is the base where every  Russian space launch has happened since the start.  Its now in Kazakhstan and tourists can visit relatively easily with some paperwork and a (surprisingly) not outrageous amount of money.
Classic Central Asia Travel Route
After that diversion we're  heading south to Uzbekistan's famous Silk Road cities of Samarkand, Bukhara and Khiva. Heading further west we want to see what's left of the Aral Sea, before dropped back into Kazakhstan to get a boat across the Caspian sea to the Azerbaijan capital (Baku). The boat sounds interesting – the crossing takes a couple of days but  the schedule is whenever (ie when ever we have a enough cargo) and there can be days long waits to actually get into port.
Now  we're in the Caucasus – and train heaven – so an easy trip across to Georgia and then a connection to far -western Turkey  to the ancient city of Kars (back on the Silk Road again) – and then the long train trip to Istanbul – where we fly out of.
So I don't know how long it would take to travel the silk road for anyone else – but the answer us – according to my spreadsheet is 85 days from Cha'an (Xian) to Constantinople (Istanbul) . Well that's the plan – and Central Asia is notorious for destroying people's plans!
So how do you plan a long trip – have you found something that works better than a spreadsheet?