I'm excited – its coming. I think its somewhere over the Pacific actually – its left LAX but not got to Auckland yet. It's my Kindle!  Mid 2010 was significant not just because the latest version of the Kindle was released – the Kindle 3 – but because it was made available to residents of New Zealand and other third world countries who previously hadn't been able to buy it (Nook makers take note! )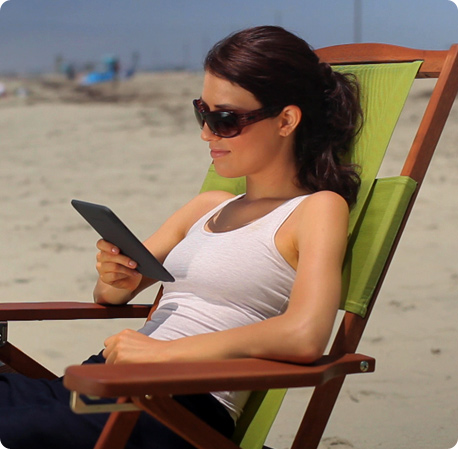 I missed the excitement – I bought a netbook and smartphone for travelling and missed the whole Kindle thing. I spent part of my holiday browsing through second hand shops and swapping paper backs with the random collections left behind at guest houses by other travellers. The time honoured to feed a book habit without having to hire a porter to carry the dame things.  It might well have been the last time.
The Kindle weights not just less than your average Lonely Planet  guide book – but less than the slimest of thin paperbacks as well.  You can download a newspaper onto it and read the paper on the plane without needing an upgrade to Excecutive Class to have enough room to turn the pages.
But most surprising of all – apparently the photo above is for real – you really can read at the beach in bright sunlight!  Now last year I had a netbook at the beach in Ko Lipe, Thailand. The beach was lovely – but it was pretty basic – my "resort" had an open sided reception hut and lots of loungers with good palm tree coverage – but nothing more substantial. During most of the day – the only place I could read my netbook's screen was  right at the back of reception in the shade of a wall – or inside my hut. There was just too much glare off the sea and sand to make it possible to read anywhere else. The Kindle claims you can – I intend to take it on this year's trip to Phuket to find out!
The Kindle is a pretty exciting gadget for a the average tourist – you will be hearing more about mine!