The Story Begins – Thinking About Buying a Home By The Sea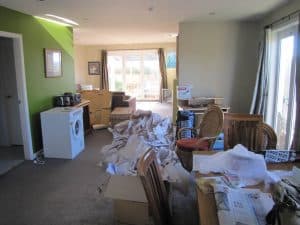 Buying a home is a big deal – but the start of this story was quite casual, I had a vague feeling that I wanted to move nearer the sea. We'd previously discussed moving somewhere warmer, probably Tauranga – but the tropic is that it's not THAT much warmer, and it's a small town. I like Wellington, except for the climate, it has quite a lot going for it. So we started looking at options nearer Wellington.We moved into our current house just over 4 years ago. The photo is from moving day! At the time it was the 5th move in 6 months and I was NEVER moving again.And now I'm looking at houses for sale again! Why? The thing with houses there are two sorts of people:
those who buy for the house;
 those who buy for the location.
I learned this by watching lots of Location, Location and other property programs. Often the house hunters on these think they want a house with X,Y,Z and that location doesn't matter much. They end up buying for location quite often.We bought this house because it was new, well-laid out, and suited us. The location I thought was fine. Indeed we like the suburb.But there is one, rather big issue.I cant' see the sea! I couldn't see the sea from the previous house we owned either, but we could from the the end of the street. Here you have to drive further.And it bugs me.And now I've found a nearby seaside suburb where we could have a sea view for the same price as this house. It's technically in a different city, Porirua, but Titahi Bay  is only 10 minutes further from the city, than the suburb we're in now.I may have to go and see some open homes this weekend!