Staying at Commercial Camp Grounds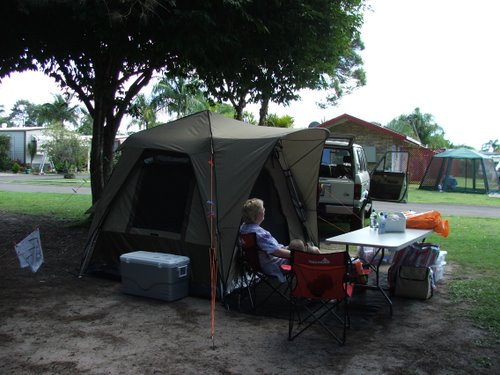 Note you don't even need a tent to use these – they can be a very good deal if you are staying in cabin or similar accommodation. We often found as a couple that we could get a cabin for the same price as a double room in a hostel complete with our own TV and kitchenette. Given the convenience of parking the truck next to the door they tended to win hands down compared to the hostel and there are more of them too . There are sometimes different areas for tent camping away from the caravans, RV's and motorhomes – the tent area tends to have more grass and to be closer to the bathrooms.
If you are actually camping for $20-$30 for 2 adults you will get a a camp site with or without power, a common ablutions block, almost always with free hot water, occasionally hot water requires a gold coin ($1 or $2) and almost always a coin operated washing-machine and a washing line. The site will often have a pad of concrete on it for the annex next to caravans – though less dusty for tent camping as well. You may or may not get grass depending on the cost of water locally.
The price difference between powered and un-powered is about $5. A powered site gives you access to a (single) power point is just that on a junction box so a 10m extension lead and a multi-point power box are must haves if you are going to power camp. It always annoyed me that I was charged the same amount to run a battery charger, laptop and a toaster as the guy next door who could run his aircon, satellite TV and microwave for the same price.
Most grounds have some type of BBQ gas or electric, often free sometimes a gold coin – start saving your change!
Less often you will get a camp kitchen which can have any or all of stove, oven, microwave, electric toaster and jug, fridge, freezer. Very occasionally they will also provide pots, pans, plates etc. If a place has a backpacker accommodation as well then there is sometimes the option to hire these items but if you are camping.
Often also there will be a small shop for basics, a games room, a TV room (usually locked at 10pm), children's play areas.
In the more expensive parks you basically have resort facilities including large swimming pools, spas, tour desks, restaurants, bars, children's programmes, courtesy buses.
Tourist Park Associations
There are 3 groups of tourist parks in Australia – all of which offer a VIP card or similar where for a small fee you join and then get a 10% discount on accommodation plus their printed guide listing all their parks.
We found these to be excellent value and ended up joining all three and saving money on them all. All the parks are independently owned and operated but we found that with the 3 guide books we had a pretty comprehensive list of properties, including location maps so you know how far out of town they were. It also made booking quicker as you didn't have to always give all your details again. There is no point joining before arriving in Australia you can join at the first park you stay at and generally get a retrospective discount on your stay. They will happily take an overseas address too.
We initially stayed at an impressive Big4 camp ground on the Sunshine Coast liked what we saw and joined that group. Once we got to Tasmania we discovered that Family Parks of Australia had the best coverage of locations so joined them – as we were staying in cabins because of the weather we saved a heap of money there. Finally we stayed in a Top Tourist Park in Darwin because of its location again in a cabin and after a week they gave us a free membership – nice! You will not always find an affiliated campground – for example there are heaps of campgrounds on the Cape York Peninsular and also there are campgrounds at Kings Canyon and Uluru (Ayers Rock) – these aren't affiliated to anyone though – its not worth their while to be part of an advertising network as you will be staying with anyway because of their location.
They claim with 190 properties to have the most number of parks in Australia. We ended up staying for a week in a cabin at Darwin and ended up being given the membership for free – which was a nice touch.
Cost: $25 for 2 years
Discount: 10% up to maximum of $25 per stay
Family Parks of Australia (FPA)
Cost: $25 for 24 months
Discount: 10% up to maximum of $20 per stay (sites) or $40 per stay (cabins)
Includes properties in New Zealand as well
Big 4 Cost: $40 for 2 yearsDiscount: 10% up to maximum of $30 per stay.Hope these details help – questions – leave a comment!