There are plenty of businesses's in Wellington happy to take your money and show you the famous Lord of Ring and Peter Jackson sites for  a lot of money. However if your travel funds are running low – here's a number of low-cost or free sites which you can enjoy, even if broke.
Wellington is a compact town so you can cover a lot of these by foot or bike – if you are reasonably fit. Alternatively use the generally excellent public transportation system.
1. Peter Jackson's Weta Workshops are closed to the public (too keep all those film secrets safe) – but the WetaCave would love to relieve you of some cash in their shop – but is free entry. The cave is about  a 30 minute bus ride from down town (#2) out past the airport in the suburb of Miramar. While you are in the area you may want to check out the newly restored Roxy Cinema which is within walking distance. One of the original suburbian cinemas that died in the face of the onslaught of TV this one has been restored and reopens in 2011. Part-owner is Richard Taylor of Weta fame. This joins the growing list of mainly suburban cinemas which cater to the movie goer who would prefer a good coffee of nice glass of wine rather than a bag of popcorn and a coke at the local multiplex. The Roxy will feature a bar and restaraunt, and there are cheaper options around the corner in the Miramar shopping area. This area is within 5 minutes drive of the airport – so its not a bad option to kill a few hours if you are running early – or stopping over.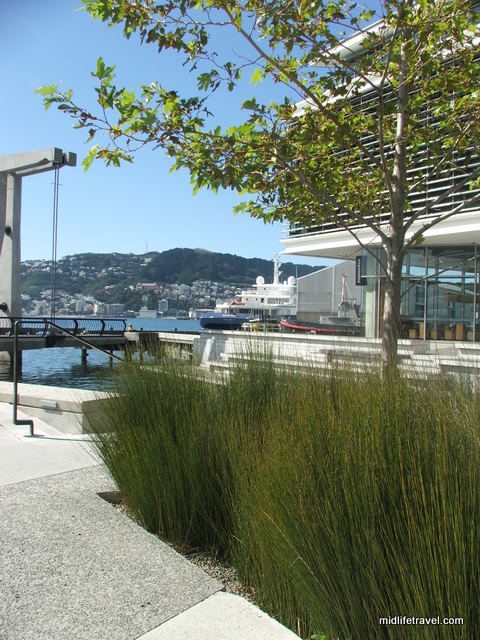 2. Embassy Theatre – Courtney Place. Although obviously it costs to got a movie here (cheaper on Tuesdays and before 5pm) – wandering around the beautifully restored foyer and up the grand stairs to the Jazz bar is free.
3. Mt Victoria Look Out. On every LOTR tour bus itinerary – but easy to get to yourself. If you are fit you can walk from Oriental Parade (Mt Vic is part of the southern walkway which will take you all the way to the south coast) – or you can get lazy and catch a local city bus up and walk back down again for the views.
4. Many of the big-name actors, and Peter Jackson himself, lived in Seatoun – the pretty seaside suburb is adjacent to Miramar. You can get to Seatoun on a #3 bus or in one direction take the East-West ferry from Seatoun wharf which will take you right back to the heart of the CBD at Queens Wharf. Its also a quick taxi ride or a long walk from Weta Cave over to Seatoun. The beach here is pebbles – but warmer than some, there is a pretty park, a memorial to the Wahine, a ferry who sank off the beach in 1969, and pleasant set of village shops including a cafe or two.
5. You will see lots of advertising for Wellington's premier Zealandia "land island" protecting native fauna and flora. Its not cheap though – if you want to see more of the New Zealand bush – head over to Wilton's Otari Bush Reserve – not an actual Lord of the Rings location – but a great way to see real New Zealand bush within 15 minutes from Lambton Quay.
If you have more time than money then these are great ways to see Wellington and get your LOTR fix – you don't need to do the tour to see most Wellington's top attractions.
This post is part of Blog4NZ, a three-day travel writing blitz, designed to let the world know that New Zealand is open for business after the earthquake which struck the country one month ago.

Follow the hastag #Blog4NZ on twitter, check out the  facebook page, and meet the people behind #Blog4NZ.