Angthong National Marine Park makes a great day trip from either Koh Samui or Koh Phangan. It is also possible to stay in the park over-night. The park consists of 43 small islands stretching over 250 square kilometers in the Gulf of Thailand. The islands are the peaks of a mountain range that ends in the southern province of Nakhon Si Thammarat.
Most of the islands are islets that are deserted. Many are odd shapes. It makes a great couple of hours cruising around the islands and admiring the dramatic cliffs and limestone rock formations. Many of the islands have names that reflect their shape such as 'Sleeping Cow Island'. Among the islands are small coves with beautiful deserted beaches that remind one of being in a movie.
It is possible to camp over night on the beach at Koh Wua Talab. It is the biggest island in the archipelago and is also the home of the park headquarters. The island also has some trails to impressive view points.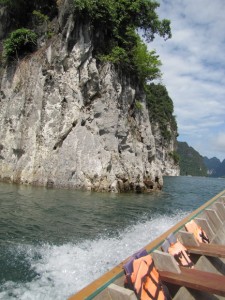 The islands are covered in tropical forest. Due to a lack of predators (including humans) many of the animals on the islands have flourished. It is possible to hire guides and explore the interiors of some of the islands. The area contains a number of animals including macaque monkeys, langurs and sea otters. There are also several species of colorful birds to spot.
The sea around many of the islands is rich in corals. Due to its protected status as a park a plethora of marine life gathers around the corals. Dive spots such as the one near Koh Sam Sao are popular with dive schools because it is possible to see short bodied mackerel and sometimes dolphins.
The word 'angthong' means 'golden basin'. It is a reference to the beach fringed inland lake found on Koh Mae Ko. It is a natural wonder of the area and worth a visit just to see the lake.
As well as trekking, camping and diving Angthong National Marine Park offers great opportunities for exploring sea caves, going kayaking and snorkeling. There is more than enough for the visitor to the park to do in one day. Many are the tourists who visit Angthong Marine Park and find themselves wishing they had opted to spend the night in the beautiful unspoiled natural surroundings of the park.