According to Forbes magazine, some of the most gorgeous nude beaches are found in Europe. Europe has long embraced the practice of bathing nude on the beach. Travelers come from all over the world to experience the freedom that Europe offers its visitors. This nude beach guide will help travelers find some of the most coveted and beautiful destinations in the world.
Plage de Tahiti located in Saint Tropez, France
This French Riviera beach caters to the cosmopolitan jet setters that are free of inhibitions. Plage de Tahiti is located at the Northernmost section of Pampelonne beach. This beautiful pristine beach is designed for any beach enthusiast that wants to sunbath nude, go topless or wear a G-string bikini. Beach enthusiasts and nudists may get their all over tan without concern of indecent exposure.
Celebrities for decades have visited this beach for a "freeing" experience. Brigette Bardot and Ursula Andress were some of the first celebrities to grace the beaches with their risqué attire. Now, celebrities of all types visit the beach and nearly everyone is tolerant of the behavior. The beach is located near the Cote d'Azur town where dining and shopping may accompany a nude beach excursion.
The rich and famous typically arrive to the beach by yacht or by helicopter. If you are not wealthy, you will find it difficult to compete with the glamour of a celebrity's grand arrival. People of all types enjoy the beach and tourists enjoy mingling with the beautiful people of this famous European destination.
Paradise Beach in Mykonos, Greece
Mykonos, Greece caters to the wealthy and cosmopolitan from all over the world. Numerous celebrities find this beach relaxing and ideal for partying. Nudity is more than acceptable on this Paradise Beach. Over half of the bathers on Paradise Beach are topless and 30% are completely nude. Sun bathers of all ages enjoy bathing nude: From teenagers to those approaching their twilight years. After 4PM, the older crowd disperses, and the beach transforms into a massive party.
While bathing in the nude, visitors will be surrounded by the breathtaking views complete with mountainous landscapes, clear blue waters and golden sand beaches. The villages are truly picturesque and identified by the characteristic blue doors found all over the Greek island.
Beach goers may retreat after the long day at the beach and experience a romantic dinner in any one of the nearby restaurants. Those who want to continue to bask in the glamour that Mykonos offers may select a nightclub, restaurant or tavern that caters to the party atmosphere. Beach goers may reach this remarkable island beach location by plane or by ferry.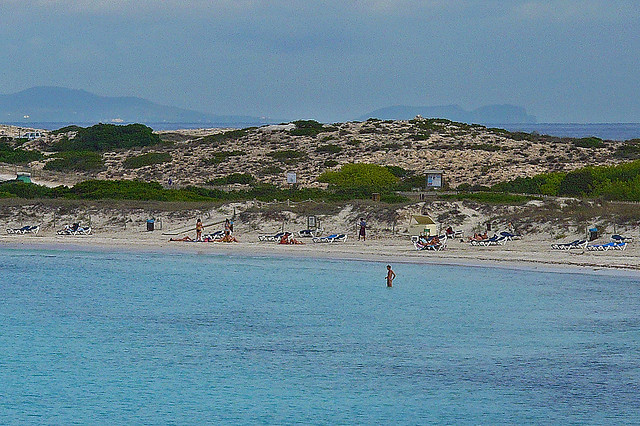 Playa d'en Bossa in Ibiza, Spain
Playa d'en Bossa is one of the longest and most gorgeous beaches in Ibiza. Ibiza is the third largest member of the Balearic Islands. The beach embraces nudity and hedonism. In fact, the Spanish Naturist Federation released a document outlining the rights of nudists in Spain. Guests from Barcelona, Palma de Majorca and Valencia may reach the beach by ferry.
Guests who enjoy libations and partying will feel comforted knowing there are plenty of bars and cafes near the beach. The location is just a few kilometers from the capital. Nightlife is accessible and in abundance near this location. This beach is considered more relaxed and caters to a tame crowd that enjoys good clean fun. Its neighboring beach in San Antonio caters to a crowd that desires true debauchery and raves.
Beach goers that enjoy partying will find a near 24 hour night club that only closes its doors for only four hours per day. Some of the top DJs play at some of the finest clubs and beach bars that this Spanish location has to offer. The famous Bora Bora Beach bar should be on everyone's list to visit while on a nude beach excursion.
Summary
Each of the beaches featured in our nude beach guide made Forbes Top Ten Best Nude Beaches in the World. While these are not the only nude beaches in Europe, these beaches are recognized for their beauty and acceptance of the practice. If you are planning a trip to Europe, consider visiting one of these nude beaches for an experience of a lifetime.