Belfast is the capital of Northern Ireland, and the second largest city in all of Ireland. Belfast's city centre is made primarily of Donegall Square and Belfast City Hall. The city's main bus routes meet here, and this is where residents of Belfast can be seen enjoying a sunny day. City Hall is the masterpiece of the city, and is often the starting point of city exploration by visitors to Belfast.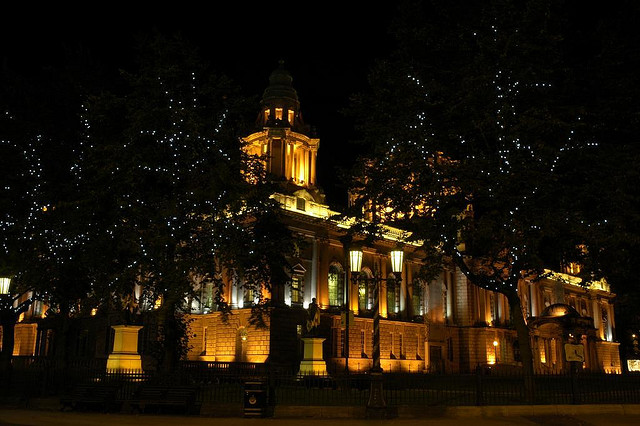 Traveling north from the center of Donegall Square will take a visitor to Donegall Place, which is a broad and very busy shopping street, and will lead eventually to the Cathedral Quarter of Belfast and the Arts School. The east boundary of the city centre is the River Lagan, and the southern is the area of the Donegall Pass.
City Hall is a stunning masterpiece of architecture, created in 1906. Guided tours are offered daily. The grounds include a memorial to the victims of the Titanic sinking and a statue in honor of Queen Victoria.
Saint Anne's Cathedral, stunning and beautiful, is located on Royal Avenue, the main shopping street which also hosts City Hall. This piece of history is grandiose and lovely, and sits at the center of the Cathedral Quarter, which is slowly being redesigned to become Belfast's cultural district.
Belfast Exposed is the only dedicated photography gallery in all of Northern Ireland, and displays a fine exhibition of artwork at all times provided by local photographers, hosted in a refurbished warehouse building. It also allows local photographers to use its dark room and processing facilities. It has an art library for the public and exhibitions are usually free to enjoy.
Many pubs, bars, B&B Belfast and shops are located in the city center, allowing guests to have places to pick up souvenirs and enjoy the area. Food and drink are offered as well as unique shopping opportunities. The city center also includes part of the River Lagan for visitors and residents to enjoy its natural beauty.
The Belfast Central Library, also located in the city center, houses an extensive Irish book selection, and newspapers and historical archives can be found here. It is a wonderful source of historical research and information about the city of Belfast and surrounding area. Because of the many historical events that have taken place in Belfast, many visitors find the library to be a source of fascination. These features and many others make the city center of Belfast known as the heart of the city.