If you are planning on a vacation to Thailand then remember that it should be fun.  However, please do not forget to respect the local customs in this country.  Westerners often fall foul of local customers and traditions and can inadvertently make mistakes that can be construed as being disrespectful.  Here are a few hints and tips to help you make sure you can enjoy your Thai vacation and make a good impression with the locals.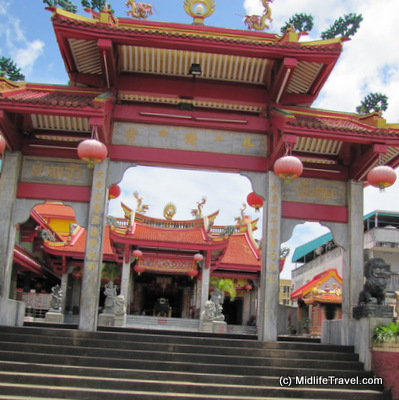 The Thai Monarchy
The Thai people retain a very deep reverence for their monarchy.  Therefore it is important to show respect for the King, the Queen and the Royal Children at all times.  You will notice that in many Thai cities including the shops and restaurants there will be large pictures of the King.  Never poke fun at this situation, as there have been instances where foreign tourists have been arrested for disrespecting the monarchy.
The Thai Religion
When entering religious sites and shrines in Thailand, a tourist must be correctly dressed at all times, and should appear to be neat and clean.  Failure to do so could result in you being denied entry. In some places, such as the Royal Palace, you can actually hire more suitable clothing if you have come unprepared – however, this will more likely than not be a hot and heavy style sarong.
Therefore, it is best to get it right from the beginning and make sure that you dress in appropriate and comfortable clothing from the outset. Shoulders, waist and knees should be covered, and you should wear neat and clean shoes. In the grounds of a Buddhist temple shoes are acceptable, however please make sure that you remove them before entering the chapel.  This is particularly important when entering a shrine in Thailand where there is a real Buddha statue.
The reason for this is because every Buddha image, whether large or small, ruined or not is sacred to the Thai people. You should therefore never climb up to snap a photo, nor do something that could be considered disrespectful anywhere near the Buddha statue.
When it comes to the Buddhist monks please also note that it is prohibited for them to touch a woman, be touched by a woman, or to receive something from the hand of a woman. If you want to pass something to a monk as a tourist, you must surrender it first to a man to pass over, however archaic and strange that this might sound.
Societal Norms in Thailand
Most Thai people are happy to accept a handshake, although it is done somewhat differently in Thailand.  Their traditional form of greeting is the called the Wai which is prayer-like gesture with the palms are placed together. Generally speaking a younger person must always greet an elder person in this manner and then return the greeting using a similar gesture.
An absolute must is to avoid the head area of Thai people.  Thais regard the head as the highest part of the body (both literally and figuratively), and so any contact with the head should be avoided at all times.  Never pat a Thai person on the head as this is the highest form of insult.