I found out about Air Asia while living in Australia – but have just booked it while living in New Zealand – why? Because I am getting a return airfare to Europe for around NZ$1000 (US$700) less than the equivalent airfare on a full service airline. However it was an interesting process booking long haul airfares  – and along the way I learnt a few  pointers.
First you will need a few things to start with:
some idea of what dates you want to travel and how flexible you can be
Air Asia route map: essentially from Australia they fly ex Perth, Gold Coast or Melbourne all to Kuala Lumpur. From KL there are regular flights to Stansted (near London, UK).
an exchange rate calculator – I like xe.com
if you are flying from New Zealand you will need to have your frequent flyer  points or other airfare options to Australia sorted out.
some thoughts on what extras you are going to pay for these include:

luggage
allocated seating – both extra room but also just to seat your party together
meals
comfort kit (blanket, eye mask etc – you get to keep this so you can buy once and reuse)
Working Out Whether Air Asia Is Cheaper
To find the acutal cost on any day – you will need to work your way through the booking system – this will include having to add passenger names and passport details – yes it will take a few hours. Finally though you will get to the "pay now" screen – and that is the real cost of the ticket.
Recently Air Asia has stated that  Australia -UK flights can be booked as connection flights ie you can transit Malaysia rather than enter and leave immediately – and if the first flight is delayed you will be re-booked on a later flight. In general though – if you are making connections I'd leave at least 12 hours to be on the safe side.  We are overnighting  in both Melbourne and KL in both directions.
You should probably look at buying travel insurance – though I'd avoid Air Asia's upsell of travel insurance (be careful – its very easily to inadvertently accept it!). Though in general Air Asia's flights will allow you to reschedule up until 48 hours prior to flying.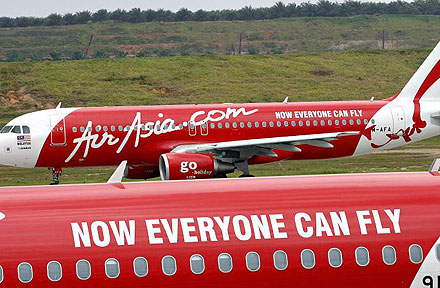 Connecting Flights with Long Haul Budget Airlines
In general flights with airlines such as Air Asia are point to point. That means if, for example your connection to Melbourne is 5 hours late – and you miss your flight to Kuala Lumpur – tough luck – no one will be paying you for the extra costs involved – which include having to buy a new ticket to KL. (Not even your travel insurance from what I can tell).
Where Do You Arrive in KL
There is only one airport in KL – but the two main terminals are about 20km apart! Air Asia uses LCCT – the "low cost carrier" terminal. This is not the one connected to the super-fast train into KL. Instead you might as well take the upsell of the Air Asia bus to town for a few ringitt.
Luggage and Cheap Flights
Is a nightmare to be honest. Air Asia will allow you to buy between 15kg and 30kg – which is straightforward – but many of the European budget airlines only allow you one piece of luggage – 2 bags even if less than 20kg will mean you have to pay more (often more than the original airfare).  So if you intend to fly at your destinati0n as well- double check  the luggage requirements on ALL of your carriers – you certainly won't get a waiver because you just flew into the country!