Koh Samui is the most visited island in the Gulf of Thailand. It has long been a favorite with people looking for sun, sand and good quality accommodation at reasonable prices.  When you arrive on your flight to Koh Samui, Big Buddha is hard to miss.
There is a number of tourist attractions in Koh Samui, but easily the most visited is the Big Buddha statue.
Wat Phra Yai is the name of the temple where the golden Buddha is located. It is in the north of Koh Samui in Bang Rak bay. The name of the beach is not surprisingly called Big Buddha Beach. It is a beach with a pier with regular ferries to Koh Phangan.
The Golden Buddha is on an island. There are stairs leading up to an elevated plinth where the Big Buddha is placed. The statue itself is just over 12 meters high and covered with a layer of gold. Since it is at the top of a set of stairs the impression of height is greatly enhanced. Down the stairs at either end are two long nagas or snakes that represent wisdom.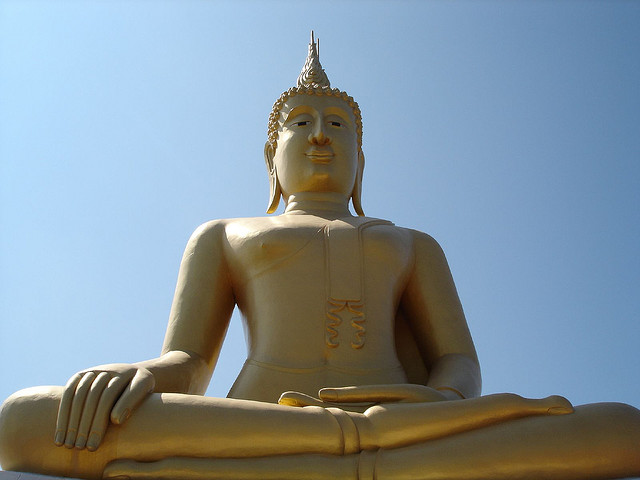 The main statue was erected in 1972, just a year after backpackers started arriving on the tropical island. In 2005 to 2006 more work was done. This work involved putting a Dharma wheel behind the Buddha's head and also building a Suphannahong boat. The Dharma wheel represents the laws of Buddhism and the laws of the universe which must be attuned to each other. The Suphannahong boat is the Thai royal barge and is a reminder of the maritime tradition of the Kingdom.
It is free to go and see the Buddha. It is also no problem to take photographs. The only restrictions placed on those who visit the Golden Buddha is that they show respect by wearing long sleeved tops and trousers or long skirts.
There are a few cheap restaurants and shops around Wat Phra Yai. It is not recommended staying in Big Buddha because it is directly over the flight path of planes going to and from Bangkok. It is recommended to go and see the Golden Buddha.