A unique way to explore the beautiful temple complex of Siem Reap –
Phnom Penh, (August 2011) – Cyclists & adventure holiday seekers from all over the world are invited to sign up to the Angkor Wat Bike Race & Ride presented by CIMB Bank and experience Siem Reaps magical temple complex at a unique time when the Angkor roads are closed off to traffic. Entering its sixth year, the annual charity fundraising event, organised by Village Focus International, will take place on Saturday 3rd December.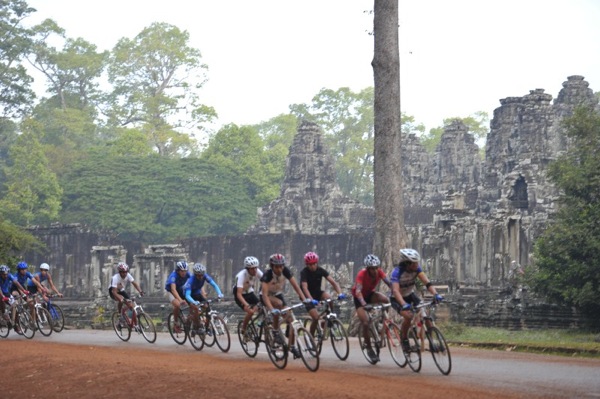 The Bike Race & Ride encourages participants of all ages and fitness levels to cycle through the beautiful temples of the UNESCO World Heritage Angkor Wat temple complex to help raise funds for Village Focus International's life changing work supporting vulnerable children and sex trafficked victims.
Since the event began in 2006, it has grown each year and raised a total of US$100,000 towards empowering young people and communities break out of poverty.
Rick Reece, Director at Village Focus International said "the Angkor Wat Bike Race & Ride offers bikers from around the world to join in solidarity to ride on the Angkor roads (car free) through forest, rice fields and the magnificent ancient temple complex. We encourage friends and families to cycle together and unite for a special cause."
Village Focus International and CIMB Bank hopes the Angkor Wat Bike Race & Ride 2011 will be its biggest yet this year and is aiming to raise over US$50,000 (net proceeds) and beat previous participation figures.
To sign up for the Angkor Wat Bike Race & Ride or for more information please visit www.villagefocus.org/bike. You can also follow the Angkor Wat Bike Race & Ride on twitter or via facebook. Village Focus International is currently in the process of registering as a charity in the United Kingdom.
For media enquiries please contact Hayley Newnham
E: hayley@villagefocus.org
T: +855-(0)-979-594-246
Notes to Editors:
Village Focus International (www.villagefocus.org) is registered as a 501(c)(3) organization in the United States, as a charitable organization in Hong Kong, and as a local NGO in Cambodia (and pending registration for our local partner – Our Village Association– in Laos). In 2000, we became the first international organization to be founded in Laos, and began working in Cambodia in 2003. During this period, we have worked in almost 200 remote and vulnerable villages and focused on local leadership development in an effort to bring about positive fundamental social change. VFI's annual budget has grown from US$125,000 in 2000 to almost US$2 million in 2009. In 2009, our 75 staff members served approximately 50,000 people, a dramatic increase from 15 villages and 4000 people in 2000. Despite our growth, we have remained true to our founding spirit: to emphasize and support local leadership, decision-making and ownership, in both Laos and Cambodia. Village Focus International implements three human-rights based programs in Laos and Cambodia; Protection & Empowerment of Women and Children, Healthy Villages and Local Leadership Program and Land & Livelihood Program.