Living in New Zealand I have always booked long haul (i.e. further than Australia) – flights via travel agents – until this trip. After being quoted over US$2100 (NZ$3100) for return airfares to Europe via Asia in what should be low season (November) and also had problems getting the return dates I wanted in January I decided to do it myself instead.
I looked a bit further into budget airlines. After several days of research, double checking dates I ended up with an itinerary which looks like this:
Wellington-Melbourne Qantas on air miles
Melbourne-Kuala Lumpur Air Asia
Kuala Lumpur- Langkawi Air Asia
Krabi – Kuala Lumpur Air Asia
Kuala Lumpur – London (Stansted) Air Asia
Munich – London (Gatwick) EasyJet
London – Cork Ryan Air
Cork London Air Lingus
London – Kuala Lumpur Air Asia
Kuala Lumpur – Melbourne Air Asia
Melbourne – Wellington Qantas on air miles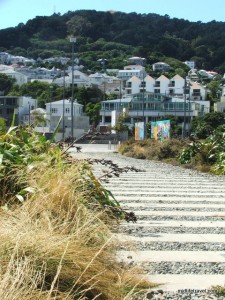 All of saved me US$700 on the trip. There are  few tricks you need to know though before you attempt this.
Other options out of this part of the world are Tiger Air (ex Australia) and JetStar (ex Australia, ex New Zealand from 2011).
Flight Booking Order
Once you have decided to book flights – have all the information lined up – each traveller's passport and the dates you want to travel on. Be very cautious of flights that arrive at midnight and make sure you know which day they are on.
Do some dummy runs – to check prices – you will have to go right the way through to (but not including) entering your credit card details to confirm the prices.  Check dates on either side to see if there is a significant difference.
Once you are ready to book – double check everything – use the agent's trick of reading aloud the information on the screen before you click confirm. Get a friend to listen to you preferably. Book the most expensive or longest sectors first and work out from there.
Credit Card Fraud Alert
All three off shore airlines (Air Asia, EasyJet and Ryan Air) alerted my credit card company to possible fraud, the company called me – fortunately I was answering the phone and all was OK. It would not have been OK if I had been doing this away from my contact numbers though – so advise your credit card company before you try to book flights – particularly those that don't originate in the country you are booking from (the airlines know where in the world you are booking from).
Cheap Tickets Don't Guarantee Connections
If you have an expensive ticket with a full-service airline and the connecting flight from say New Zealand is 6 hours late and you miss the connection – no problem the airline will put you up and rebook you at no extra cost. This is not the case with cheap fares – if you miss the second flight you will lose the ticket and have to buy another (more expensive) one.
The exception is that Air Asia now guarantees connections through KL for Australia to London flights. Otherwise I'd suggest you incorporate a stop over.
No Travel Agent To Hold Your Hand
Travel agents can be helpful – good ones will remind you to:
ensure that you leave the airport's minimum transit time between flights (though see above I'd recommend much more) – usually 2 to 4 hours
advise what visas you will require
tell you to buy travel insurance
leave plenty of time to get to the airport – and sometimes to check in over the web to avoid extra charges and delays at the airport (Ryan Air, Air Asia)
check which vaccinations are recommended for the countries you are travelling to
So if you have never travelled independently before, especially internationally then agents can be quite useful.
One thing they do is monitor the flights you have booked and tell you when flight times change (as they do from time to time). With cheap flights you will need to be onto any potential changes and keep an eye on your on-line booking (usually via the airline's website).
And travel may be ticketless these days – but its not paperless. You will need to print out copies of your e-tickets for almost all flights – certainly all international ones. Telling the immigration officer that your proof of onward travel is on your netbook or iPhone isn't going to cut it.