Yup – really – we are flying straight out of Malaysia and into Europe in early December. I already wrote about my warm weather packing list which is frankly the easy part – so how to pack for the cold and potential snow of Europe?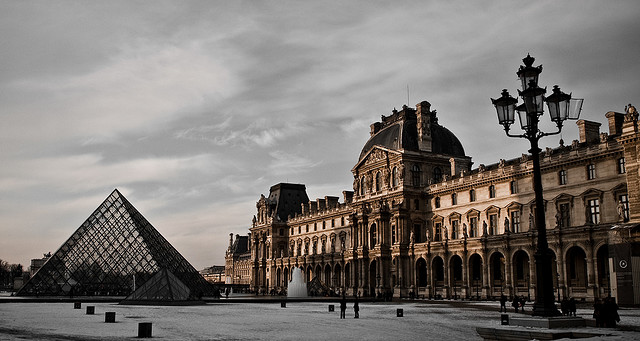 First I should probably point out that this is not a ski trip – and most of Europe doesn't get that cold – the snow on the Louvre is pretty but hardly typical. I never managed a white Christmas in London. This list is for temperatures down to about 0C and rain – oh lots of rain!
As I mentioned before – I have stuff that is on my packing list for  every trip:
3 pairs of cotton underwear, bras, swimsuit (lots of spas in Europe)
prescriptions and glasses (I'm blind without them so a spare too)
sarong – most multi-use device ever invented
traveller's towel, shampoo (replaces soap and laundry powder too), travel clothes line,
For cold weather travel I obviously don't need shorts or skirts.  I do however need a decent waterproof pair of light weight shoes or boots.  Wet cobbles, as featured on many European streets are slippery and hard – you need good shoes.
If you are going to a wet climate you need a decent waterproof coat – these are  often quite bulky – find the one that packs down the best – but is still genuinely waterproof.
The trick with packing light for a cold climate is to leave the bulk out. Sweatshirts and polar fleeces are a fail here because they are too bulky. Instead my extra outlayer is merino wool, fine warm, even when wet and expensive. Nothing else comes close though for warmth/bulk ratio.
The other half of keeping warm is thermal underwear – either the original polypro which can get a bit smelly – or newer (and more expensive) merino variations.
You will also need some warm socks – I take 2 pairs and they are usually wool or wool-blend for warmth.
I will probably need a hat and gloves and maybe a scarf –  I  tend to buy  those on the road.