As I work online for a living I need a laptop when traveling – but your mileage may vary. You need to step back though and work out what you'd actually use the laptop for? The world is full of Internet cafes – so they may be a reasonable alternative if all you want to do is check your email and update Facebook once a week.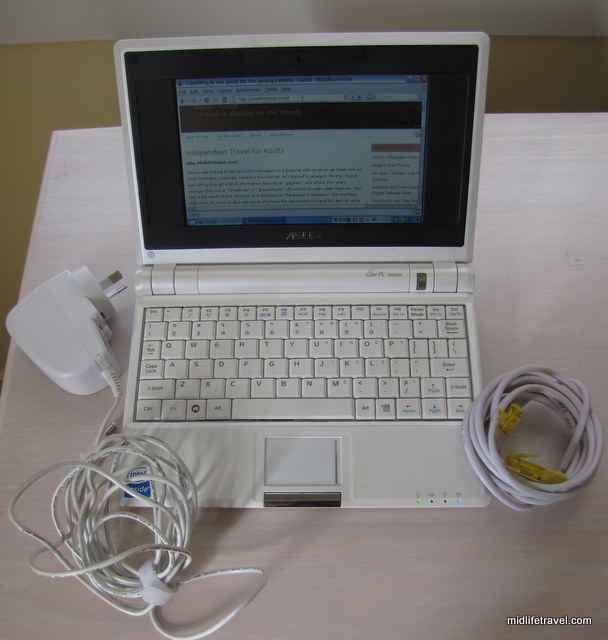 Why Do You Want a Laptop When You Travel
Common answers are:
a bit of web surfing, update my travel blog, write some emails
I'd suggest you consider going without one, frankly for ease of writing a diary – its hard to go past pen and paper, never needs recharging, resistant to moisture (within reason), can operate out of range – of everything including power
heavy duty video editing and photo graphic work

Ouch – you are going to need a decent machine – probably a Macbook or a high end lightweight Sony Vaio or similar. Frankly you are going to be spending quite a lot of time and muscle looking after it.  You will probably want to spend a bit more on higher priced private rooms and consider taking taxis rather than buses depending on where you are travelling.
running a business online or remotely
To be this is the only real reason why you'd need to be carrying your own netbook or laptop. I need to regularly check in with contractors, update documents, manage websites and correspond with clients. Although I could all of this from public machines its more secure and easier for me to have my own machine running my own password remembering app, it also makes it easier to work in quieter areas when I can get wireless in my room rather than competing with the teenage gamers in the Internet cafes.
Most people ask – should I take a laptop/netbook/iphone – the question is as unanswerable as "how much does it cost to travel" – it all depends.
Deciding to travel with any gadget because everyone else does, your mother wants you too, or you think it vaguely might be a good idea without actually knowing – sounds like a good reason for leaving that item home.
Can You Afford To Loose Your Laptop?
Never, ever take anything with you that will upset you i you lose it, have it stolen or drop it in the sea when boarding a speedboat in Thailand. If its very valuable double check that you have insurance for it – don't just assume you are covered. But remember too you will still be seriously out of pocket even if the company believes your story.
Remember too – the data on your laptop is the really irreplaceable stuff – especially if it includes losing all your travel photos.  This really needs you probably need both a second drive and a cloud backup option such as SugarSync that allows you to backup as many directories as you want and is also handy for sharing files between computers.
You Can't Just Travel With a Laptop
Part of the problem is that you need more than just a laptop. At a minimum you also need:
power cable/transformer (and some of them are heavier than the flipping laptop – check that if you are buying);
plug adapter assuming you are leaving your home country;
an external hard drive, or pen drive to backup your laptop which should NEVER be in the same bag as the laptop;
some decent case to protect the fairly delicate electronics (closed cell foam is best );
a plastic bag to keep it  all dry;
So should a laptop or netbook be on your packing list – to be honest I don't know – only you can form a rational answer to the question.