Its been a while since I have done a lot of reading of travel blogs – but this has now all changed and after finding some woeful examples packing lists I then discovered some pretty sensible ones. But I admit they are both packing lists that fit my style of travel – so I should maybe describe the style of travel these varies from others.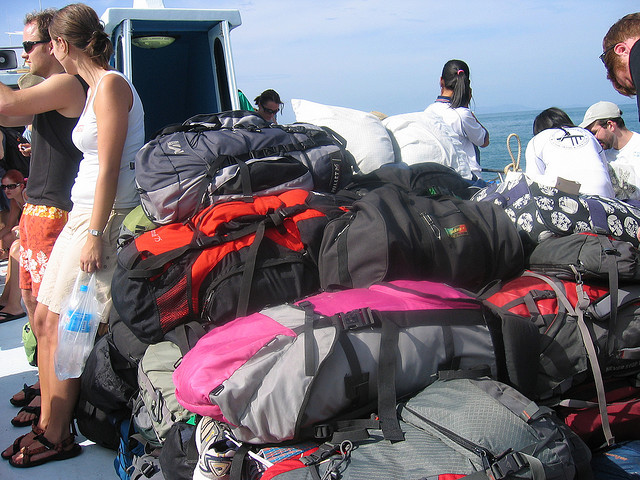 I'm backpacker – I intend to carry my bag, not pay porters.
I travel overland by public transport – I need to get  through turnstiles onto a train platform or onto a bus – without gymnastics
I travel long-haul on cheap airlines – and I don't like paying overweight fees.
I'm old and lazy – I don't do gym workouts for fun.
I've travelled enough to know that you can buy whatever you need, anywhere, and usually for less than at home.
I'm girl – traveling with a guy – this only makes a slight difference.
I work online so I need to stay in touch.
So who's lists do I like:
AdventureRob recently did a post on What Travel Stuff. What I liked about Rob's list :
he knows that no one should ever travel with denim – ever.
he understands that if you need stuff – you can buy it – particularly in Thailand.
What I disagree with:
I wouldn't carry an two external hard-drives. If I carry an external hard drive – I don't – my partner does if I have the netbook and vice versa. I do backup online to the cloud though using a neat little service called SugarSync. I also have a thumb drive.
I can't see much point in having a cell phone – people have my email if they need to get in contact …
Wandering Earl has gone even lighter weight than Rob when he writes about What A Permanent Nomad Packs. He makes the excellent the point that the length of time you travel for is pretty irrelevant. What makes the difference is the climate – and although is 7.5kg list would work for me in Asia (well I'm a girl so I'd add some bras and a tankini – which would substitute for underwear and a dress up top). The big difference is climate. Now Earl admits to a warm weather guy – but he's heading to Turkey and Syria soon – now I hit Turkey in March – and admired the snow on the minarets – and litterally froze my – well all parts of my body – at Crac de Chevalliers in Syria in April – I really think Earl might need something windproof/waterproof and a warm layer.
So what is my packing list? – Have to wait for next time!