Most people start their packing list with what clothing they want to take – to me its the least important part of my packing – I leave it to the end. Yup I'm a girl and I don't think clothing is important – so shoot me! Frankly I don't need to wear nice clothes to feel good about myself – I'll settle for clean – on vacation or elsewhere.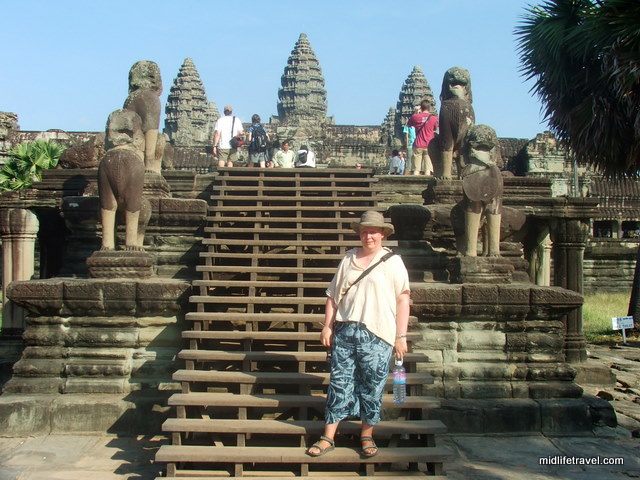 So what would my packing list check list look like? Something like this:
Every trip:
3 pairs of panties – underwear – light weight cotton – doesn't matter they won't last the trip anyway. You can by super expensive, dry before you hang it up, survive for years stuff- or just use old ones and replace as required (every couple of months in my experience);
bras – two pairs – I hate underwired bras and this all you can get in most of the world so I sometimes take 3 if I don't think they will last the distance;
sarong – can double as a sheet, towel, bag as well as be a skirt, a shawl, a dress
swimsuit – usually a 2-piece tankini as it can double as underwear or even as an dressy top.
prescription medicines, prescription glasses and a spare (because I am blind without them – or I'll get another pair really cheap on arrival if I am flying to Asia).
shampoo (doubles as soap and laundry washer), toothbrush, toothpaste (small), travel clothes line, a micro fibre towel if I am travelling really, really cheap (many hotels provide them in Asia).
Warm weather trip
1 pair shorts, loose, cotton not too short;
1 skirt either knee length in less conservative countries or calf length for countries that are a) conservative and b) don't provide much more than a ladies side of the bus for conveniences.
a lightweight pair of trousers for flying and when the mosquitoes are out in force
a light sweatshirt or similar for planes and if I am going up any hills – often surprisingly cool even in the tropics
soft light T-shirt which is mainly for sleeping but could also be a top if I need it to be., and is often sun protection over the swim suit.
a couple of short-sleeved shirts – silk or light weight cotton.
Teva or similar sports sandals.
suntan lotion, insect repellant (tend to be cheaper at home)
I'll probably buy on location
sarong as above if I don't already have one
a sunhat – the good ones are rarely packable
an umbrella – a great deal more useful that a waterproof coat in the tropics
mosquito coils and matches
So by my count that gives me 4 bottoms (including the sarong) and 4 tops (including the tankini) – if you are clever with the colours and patterns they should all go together.   Black is not ideal for warm climates so I avoid it, and white for obvious reasons. I generally go for patterns on the top – to hide the dirt and khaki or mid blues on the bottom. One of the shirts will nicely coordinate with the tankini – for the whole beach to resort fancy restaurant look – trust me it works (and you don't need a bra that day either!). Packing light is really quite easy – if you remember that almost every location will have shops.